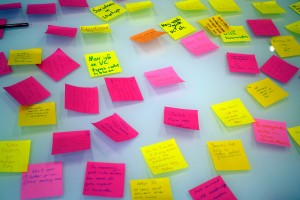 We have witnessed cubicles slowly giving way to open spaces shared among many organizations, with shared infrastructure and resources.
This is also true for many African countries, where the technology sector has been quickly developing and attracting investment from all over the world.
Tech is on a roll in the continent, where Fortune predicted an imminent Internet boom.
There are between 100 and 200 African hubs according to VC4A, the largest online community of venture capitalists, angels and entrepreneurs building businesses in Africa. Over $27 million has been raised from investors in the community. More co-working spaces and hubs continue to be created in order to spur growth in the sector.
Not all hubs are created equal
While some hubs are all about incubating startups, others are specialized in improving participants' technical skills. No two hubs are the same. But do they even work? What challenges do hubs face in Africa?
Booting Up
Initial funding for infrastructure and utilities, local partnerships with corporate bodies and a working sustainability plan for their environment are the main challenges that our Advisor Fiifi Baidoo, co-founder and CTO at iSpace Foundation, identifies for tech hubs in Africa.
Leaps and Boundaries
We know we can't compare infrastructure in Ghana and other African countries to that in Silicon Valley, but how bad is it?
Internet, electricity and real estate are the fundamental ingredients to start a hub. However, quality services are often hard to find in many major African cities. A good, affordable Internet connection, without which a tech hub makes no sense, isn't the norm and electricity is not stable. Baidoo told us a young hub needs to budget for a standby power source which increases a traditional power source by over 1,400%.
As for real estate, it is not regulated in most of Africa yet; most property owners require tenants to pay 24 months of the rent upfront.
Show me the money
While there are reportedly good sources of funding to start tech hubs, it seems that most of them still come from outside the continent. The money comes with conditions, though. According to Baidoo, since investors always have an agenda to promote, hub founders need to juggle their own objectives as well as the investors'.
Measuring success
Number of shiny new apps? Lines of code written? How do hubs in a frontier market assess their performance?
The founder of iSpace Foundation considers a hub to be successful if it empowers at least 100 startups and entrepreneurs. In Baidoo's words, "That goes a long way to have a ripple effect on other businesses, improve the conditions of its environment and the standard of living of the people who pass through."
Kissing co-working goodbye
Baidoo predicts that, in the future, the co-working services that come with hubs will gradually fizzle out. He thinks that the Internet becoming more affordable and widespread will cause people to start working from home most of the time and use hubs occasionally for meetings or tech meetups. Baidoo believes that hubs will therefore become more specialized, focused on specific projects. Unless entrepreneurs are really working on collaborative projects, their need to travel to the co-working space will be irrelevant 'especially when internet and electricity become reliable in the country.'
Get smart fast on tech hubs across frontier markets
To gain additional insights on tech hubs and entrepreneurship from top industry professionals like Fiifi Baidoo across all developing markets, contact OnFrontiers today at hello@onfrontiers.com
About the Advisors consulted for this article
Fiifi Baidoo co-founded iSpace Foundation, a nonprofit innovation hub that helps entrepreneurs and innovators in Ghana who are building new technologies for global markets. He is a former Google employee.
About OnFrontiers
Founded in 2014, OnFrontiers is a global advisory network and research firm that provides rapid access to targeted, high quality insights in hard to reach frontier markets.
https://onfrontiers.com/wp-content/uploads/2022/05/Existing-Access-To-Experrt-1.jpg
720
720
ACS Admin
https://onfrontiers.com/wp-content/uploads/2022/07/main-logo.svg
ACS Admin
2022-04-20 11:57:32
2022-07-29 10:53:17
African Tech Hubs